Choosing to celebrate Christmas and the festivities in December while being conscious of the environment can feel absolutely rewarding – try it out! Here are some of our top tips for a sustainable Christmas you could consider this holiday season.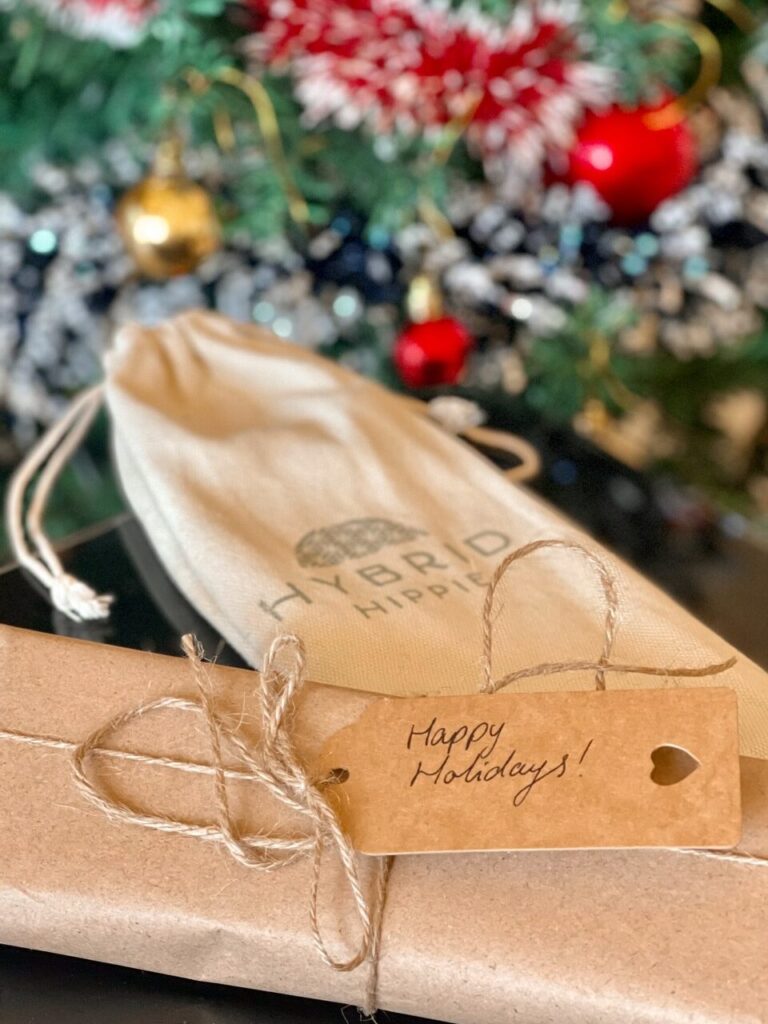 Table of Contents
Get a real tree and Either Upcycle It Or plant it (Depending on Where You Live)
When it comes to choosing the perfect holiday decoration, many people opt for the tried-and-true classics: wreaths, lights, garland, and of course the ever-popular artificial Christmas tree.
However, there is another option that offers a number of benefits: getting a real tree and planting it in your yard after the holidays are over, if you live in a country where the weather would allow the trees to thrive. Furthermore, this type of tree will grow and thrive in your yard year after year, helping to add some much-needed greenery to your landscape.
If you do live in the Middle East or Asia, for instance the UAE, you might want to get your real Fir Christmas Tree from businesses like ACE Hardware or Kibsons, who will arrange to collect the trees after the holiday season and have them recycled for you.
For one thing, a real tree has an undeniable natural beauty that is unmatched by any synthetic alternative. And best of all, once you are done using it as a holiday decoration, you can use your real tree as fertiliser to nourish plants in other areas of your yard. So this season, instead of getting a new artificial tree, why not consider treating yourself to a real tree!

Having said the above, if you are reusing your last year's Artificial Christmas Tree and decorations, this works too! You don't have to throw this away for a new tree. Ultimately, Reusing > Buying.
Shop for Christmas gifts at local, small businesses
It's that time of year again: Christmas is just around the corner, and it's time to start thinking about shopping for gifts. If you're like most people, you probably hit up big-box stores and online retailers first, looking for deals and great bargains.
However, there is another option that is often overlooked: shopping at small, local businesses. Not only will you get a more personalised experience, but you'll also be supporting your community by keeping their cashflow healthy and the people behind these businesses happier. Plus, many smaller businesses offer unique gifts that you won't find anywhere else.
So if you really want to feel the holiday spirit this year, consider making the effort to shop local and support small businesses this Christmas. You won't regret it!
Make your own Sustainable Christmas decorations out of recycled materials
Getting into the festive spirit is one of the best things about Christmas! But if you're looking to add a personal touch to your decorations this year, why not try making them yourself?
With a little creativity and some recycled materials, you can create truly unique Christmas decorations that are sure to impress. Whether you want to decorate your tree with handmade paper stars or add some sparkle with beaded ornaments, the possibilities are endless.
And the best part is that when it's time to take down your decorations in January, you can simply reuse them for next year! So why not get creative and make your own handmade Christmas decorations this season? They're sure to add a special touch to your home and help you get into the holiday spirit.
Serve food that doesn't require a lot of packaging or waste
Serving food that is free from waste and excessive packaging can be a challenge, but with a little planning and creativity, it can be done easily. One approach is to only pick ingredients that you would actually use.
This way, you minimise the need to use wrappers or containers for packaging items at the last minute. Another option is to stock up on glass jars and reusable storage containers that can be used over and over again.
By choosing materials that are durable and sustainable, you can help reduce food waste while still providing tasty and nutritious meals for your guests. So why wait? Start planning your Christmas dinner menu today, and think creatively about how you can serve great food without creating extra waste or excess packaging!

BONUS: 10 Best Vegan Christmas Dinner Recipes on Vegan Society
Wrap presents with Recycled wrapping paper or fabric scraps
Wrapping presents can be a time-consuming and often stressful endeavour. Not only is there the challenge of choosing appropriate wrapping paper or ribbon and finding just the right gift box, but there are also the logistics of making sure that everything fits just right, without crumpling or tearing the paper.
Fortunately, there is a simple solution to this problem: using upcycled wrapping paper or fabric scraps. These materials are not only easy to find and inexpensive, but they are also a great way to reduce waste. With abundant colour options, fun patterns, and plenty of texture and shine, reused wrapping paper makes it easy to jazz up your gifts and create festive holiday displays your friends and family will love.
So why wait? Start looking for some nice scraps today, and give wrapped gifts an eco-friendly upgrade!
Send Christmas cards electronically instead of mailing them
There is no denying the fact that Christmas cards are a beloved tradition, connecting us with friends and loved ones during this festive time of year. However, in today's increasingly digital world, it can be more practical to send Christmas cards electronically rather than mailing them.
Sending e-cards instead of snail mail allows you to reach a wider audience without worrying about postage costs or delivery times. Furthermore, e-cards take up no physical space when compared to traditional paper cards, which can be an important consideration for those living in small apartments or condos.
Additionally, electronic cards offer plenty of creative options like animations and personalised messages that paper cards just can't compete with. So if you want to save time, money, and space this holiday season, consider sending your Christmas greetings via email or social media instead!
Have you considered any of these tips for a more eco-friendly holiday season? Even if you only adopt one or two of them, you will be making a big difference in the amount of waste your celebration produces. And who knows – maybe next year you'll want to try even more! We hope you have a happy and sustainable Christmas this year.