All of our stainless steel products, including the bottles and straws, are made from highly durable food-grade 18/8 stainless steel, which are designed to last you a lifetime.
Following our tips on how to care for your stainless steel products would prolong its life and make sure that they remain fresh and clean.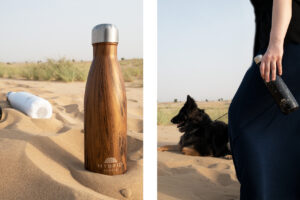 If you have just received your Hybrid Hippie stainless steel bottle, we highly recommend that you wash it thoroughly with warm soapy water before your first use. All you need to do is fill it up with warm water and soap, shake it a few times with the cap on and let it sit for about 15 minutes. Finally, rinse it out with water and voila – your bottle should be ready to use.
Cleaning & Maintenance
1) We recommend that stainless steel bottles are only hand-washed. As Hybrid Hippie bottles are double-wall insulated, the high temperatures in a dishwasher may weaken the insulation properties of the bottle.
2) One of the most effective and our favorite way to clean, is to use 2 tablespoons of Vinegar. Its natural antibacterial properties make sure that your bottle always smells fresh and is well sanitized.
3) For the days that your bottle needs an extra deep clean, you could use a tablespoon of Baking Soda and fill up the bottle with warm water.
4) Finally, leave the bottle to air dry upside down.
1) Our stainless steel straws are dishwasher safe – but, if you have been sipping on a lot of smoothies or protein shakes, we recommend that the straws are rinsed well under warm water and the insides cleaned thoroughly with the included straw cleaning brush.
2) If you still need to pop them into a dishwasher, be sure to place them in the utensil rack – and, don't forget to remove the Silicone tips before you put the straws in.
3) For a thorough clean, soak in a mixture of warm water and 2 tablespoons of white vinegar.
All of our stainless steel products are designed to last a lifetime, with the right love and care.